Making the MBA Holistic
When you envision a typical MBA student, especially one from a prestigious institution like the IIM, various subject mastery may arise in your mind – from accounting, economics to finance. You would think about the phenomenal placement rates, lucrative compensation packages, and industry giants like Tatas, Big 4, MBBs, and other influential firms coming for recruitment. These thoughts are not entirely unfounded, for they mirror the aspirations that drive the youth of the nation to strive vigorously during their rigorous two-year tenure at the college. However, amidst this prevalent capitalist focus, one vital objective behind the establishment of these institutions goes overlooked: the intent to foster a positive, enduring influence on society.
While the curriculum largely gears towards equipping future leaders with the tools to amass wealth through their expertise, it often neglects a critical aspect: understanding movements and their role in shaping a more holistic worldview. This is where an elective course in the second year takes center stage – "Transforming Social Movements" (TSM), led by Prof. Sandeep Pandey. Unlike any other course at the institute, TSM stands apart. It entails a series of 20 sessions meticulously designed to delve deeply into a wide spectrum of social movements across the globe, transcending geographical boundaries. Topics encompass activities advocating for dalit rights, combatting corruption, upholding human rights, and addressing racism. Furthermore, the course takes an academic approach to dissect the factors contributing to the success and emergence of such movements.
Yet, it is the nature of assignments that sets TSM apart. Departing from the conventional submission of reports, these assignments necessitate tangible engagement with the real world and its people, aiming for genuine impact.  There are two components: a group project, in which each team chooses a pressing social issue and actively contributes to its advancement; and an individual project, requiring personal connections with individuals from lower socio-economic backgrounds, to alleviate specific challenges.
Making a Difference
The purpose of each activity required by the course is twofold: to foster personal growth towards empathy and to create a positive impact for the communities and individuals we aim to assist. This is achieved through a range of approaches, including fundraising for marginalized communities, organizing screenings of socially relevant films, and shedding light on issues like manual scavenging that persists in various districts across the country. In addition to these efforts, course participants have made significant strides in changing the trajectories of individual lives. For instance, they have supported economically disadvantaged first-generation college students in financing their education. They have also assisted laborers in getting affiliated with the labor board, and provided eligible individuals in need with Aayushman Bharat cards, ensuring access to healthcare benefits.
Case for Broader Adoption
"Why is this important?" was a question I posed to myself before enrolling in the course, and its significance became evident as I actively engaged in these activities. Firstly, it challenged my perception of success rooted in wealth accumulation and guided me toward understanding the responsibility of privileged individuals like me to contribute to societal well-being. The transformative experience of journeying with Paresh Bhai for four hours to his village and briefly living his daily life shattered my previous lack of comprehension about his struggles. This encounter, combined with the prospect of becoming a future leader, underscored the significance of comprehending the repercussions my decisions hold at the grassroots level. Secondly, I recognized my capacity to drive societal change. While I anticipated that many of my efforts, as well as those of my peers, might yield no substantial outcome, I also grasped the importance of a few successful endeavors. An illustrative instance involved a handful of us procuring Aayushman Bharat cards for the workers responsible for maintaining our dormitories. In no time, we received requests from numerous others seeking our aid in the same process. The rapid dissemination of word affirmed that the issue was genuine, solvable, yet unaddressed due to the gap between citizens and the government. Thirdly, it taught the art of cultivating personal relationships with individuals from all walks of life and erasing barriers & glass ceilings. Although my initial interactions with people from marginalized & discriminated communities felt awkward, they consistently exhibited trust, hope, and faith in me. Through this iterative process, I also acquired the ability to communicate, converse, and foster genuine friendships with them. I am optimistic that several of these connections will endure for many years to come, even after my departure.
Considering these factors, it's particularly concerning that courses of this nature are few and far between. Their significance is paramount, particularly as we transition into a world that is becoming more disconnected, yet increasingly demands empathy. This experience also reminded me of a saying from a very inspirational person with whom I had worked briefly before, which highlights the urgent need for the new youth of India to usher in change:
"Aaj Kal Ki Yuva Ek Train Ke Dabbe Ki Tarah Ban Gayi Hai, Ek Banda Jaha Jaata Hai,  Waha Sab Chale Jaate Hai. Yuva Ko Nischay Lena Chahiye Ke Kya Unko Train Ka Ek Dabba Banna Hai, Ya Phir Uss Train Ka Engine"
Translated in English as:
"The Youth of India Has Become A Train's Compartment, Where One Goes The Rest Follow. The Youth Must Decide, Whether To Be The Compartment Or The Engine.
Taken From Conversation with Sharad Patel
Considering the collective accomplishments of the students in this course, not just this year, but over multiple offerings, it's accurate to assert that while each of us took small individual steps, it constitutes a significant leap for management. This course has effectively educated future leaders in a manner that couldn't have been achieved otherwise, imbuing them with empathy and a profound comprehension of real-world circumstances.
Photographic Anecdotes of My Experiences
Figure 1: Jogrimatanichali Near Sabarmati Riverfront To See Shambolic Sanitation Facilities & Repeated Open Defection Despite Being Announced Open-Defection Free By Government
Figure 2: Witnessing Manual Scavenging Being Taken Place Wherein the Worker Weas Cleaning Dirty Toilets Without Gloves or Footwear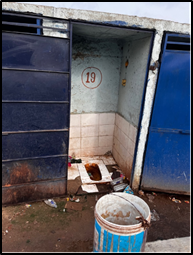 Figure 3: The Pathetic Condition Of Government Provided Washrooms That Have No Water Flow And Are Unusable
This article is written by Mr. Rishabh bansal, currently a student at the Indian Institute of Management, Ahmedabad.